I've looked back on the #memade movement this past Summer and have put together a list of the top 15 indie sewing patterns by Instagram popularity! There are some surprises in this list of sewing patterns by indie designers so keep reading. Oh and by Summer, I mean northern hemisphere summer as that's where the core contingent of the sewing community lives. But those of us down under will be looking to these summer trends in the coming weeks!
I don't always sew what's trending but it's still fun to see how many of the more popular patterns I have actually made. What about you? Which from the list below have you already sewn? Which one did you love? What's on your list to make next?
The top 15 indie patterns for Summer 2020:
Coming in at number 15 is the pomona pants that have been exploding all over my feed recently. They are a simple elastic waist pant pattern with a shorts option, patch pockets, and a fold down waist instead of a waistband which makes it a quick and easy sew. Despite, or perhaps because of, their simplicity I feel very drawn to making these pants. I'm thinking of a version in our New England Merchant & Mills Gingham.
The Dawn jeans is a classic indie jeans pattern with detailed instructions that have a shorts option too. I have a pair cut out of some Mind the Maker denim I just have to finish up.... 
Another great elastic waist pants option with front pockets and patch pockets on the back. There's wide leg and tapered leg options. It's a good beginner pants pattern (a bit trickier than the pomona but easy-ish) and is made for linen like our Boston Fall by Merchant & Mills.
Friday Pattern Company delivers again with this new pattern for 2020. It's got those fabulous puff sleeves we are all swooning after. I particularly love the ones being made up in a gingham. It's a quick and satisfying sew that looks great tucked into high waisted pants. I've made up one sans ruffle in our Winter Hymn by Merchant & Mills.
Another new 2020 release is the Gilbert Top by Helen's Closet. The Gilbert is a button up top that's a great warm weather wardrobe addition with its relaxed fit and camp-style collar. I'm keen to try this top in our Vernon double gauze for something light and breezy.
The Wiksten Shift top was my very first piece of clothing I made (and I'm actually wearing it as I write this post!). It's such a delightful sew and the top is an immediate wardrobe staple - it would look great in any of our linens or our Revolver Cotton double gauze by Merchant & Mills.
These Pietra Pants are a flat front with elastic waist back giving them an air of sophistication but without taking away from the #secretpyjama factor! I have not sewn these myself but the shorts version in our neon fizz linen/cotton by Merchant & Mills for something a bit summery and fun are high on my project list.
Another top contender by Close Core Patterns are the Cielo top and shift dress. The Cielo is a boxy top which have been popular recently with a nice cuff detail. And the shift dress has some original pocket design and a classic shift silhouette. Our drapey tencel would be lovely in either the top or dress.
There's nothing but nice things to say about this gorgeous, minimalist pants pattern by Anna Allen Clothing. They are a high waist pant (also shorts option) with no side seams and a button fly front. These pants are a good skill level-up if you need to practice button fly construction.
The Kalle Shirt is a button up shirt with variety of placket options and hem styles. I've made this up in the cropped, curved hem style and it's one of my favourite handmade pieces. The shirt dress option is very elegant and would look lovely in one of our meetMILK 100% tencel stripe twill's. 
This dress has really gotten a lot of love this past summer. I think people like the pockets and the many combinations that can be made with the 3 sleeve options. It looks fabulous in a linen stripe and seems like a piece you'd pick out to wear again and again. A perfect wardrobe staple could be made from our gingham linens.
The Wilder Gown is such a fun and playful dress or top pattern. I've made up the top version in a delicate and summery pink Nani Iro cotton gauze balanced out with a black tie to give it a bit of an edge. It's a whimsical sew with some incredible versions out there. I LOVE the sheer ones with a slip underneath. So so beautiful. It's a must sew. I can't wait to make this up in our lightweight diamond jacquard tencel in puff.
This is a tried and true pattern for me as it appears to be for many in the community! This pattern is for a short sleeve tank in a cropped or longer version. It has an option to sew with an all-in-one facing for a professional finish or a binding version. It's such a brilliant scrap buster and with Aussie summer around the corner, I can guarantee I'll be making some more. I'd love to sew this up in some of our tencel twill or even our cotton double gauze for those sticky hot days..
The Zadie jumpsuit continues to be a community favourite. This relaxed and easy to wear jumpsuit keep popping up in our Insta feeds, and for good reason. It's stylish, a quick-ish sew, and looks great on all body types. This would look boss in some of our Jacob's Check linen double gauze by Merchant & Mills.
A tried and true pattern if there ever was one, given the warm weather in the northern hemisphere, everyone's #ogdencami makes were out in full force. Some fantastic hacks can be found too, check out #ogdencamihack for inspiration. I particularly love the gathered dress hack for a quick, easy, summery dress. Next ogden I make will be in our popular blueberry tencel diamond jacquard.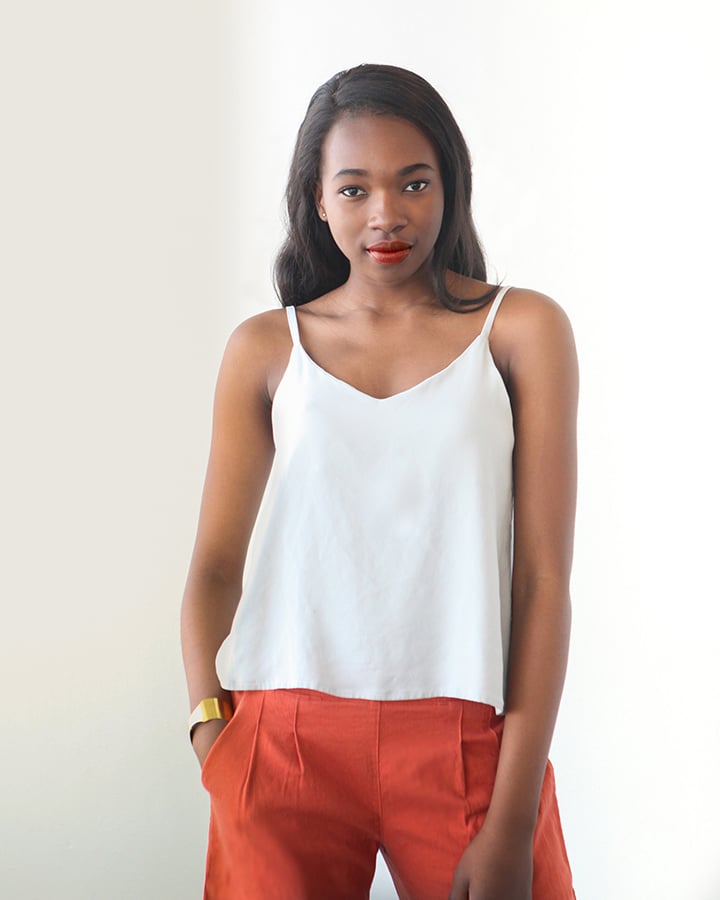 And there you have it! A round up of the most popular indie sewing patterns in slow fashion for Summer 2020. Stay tuned for the next post where I'll walk you though the top Big 4 sewing patterns for summer.
Thanks & Happy Sewing,
Georgi